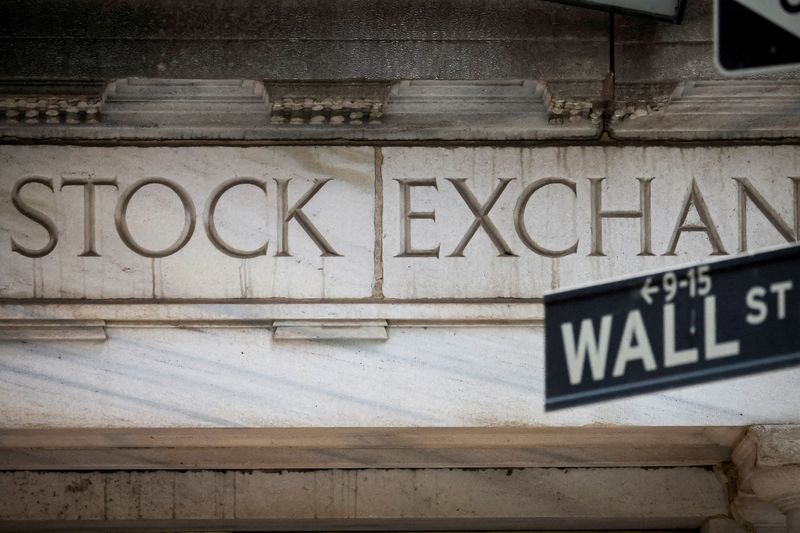 © Reuters. FILE PHOTO: The Wall Street entrance to the New York Stock Exchange (NYSE) is seen in New York City, U.S., November 15, 2022. REUTERS/Brendan McDermid
By David Carnevali
NEW YORK (Reuters) – U.S. stocks pared losses late on Wednesday but the Dow and still closed lower, as problems at Credit Suisse revived fears of a banking crisis, eclipsing bets on a smaller U.S. rate hike this month.
Benchmark indexes regained some ground in late trade after Bloomberg reported the Swiss government was holding talks on options to stabilize the country's banking giant.
"We are seeing movement on the headlines but not severe headlines which is good. … I don't think we are at 2008-2009 stages by any means when it comes to the contagion stuff," said Themis Trading co-manager of trading, Joe Saluzzi.
Still, Credit Suisse troubles piled more pressure on U.S. banking sector after U.S. authorities relieved investors with emergency measures to prevent contagion after the collapse of SVB Financial and Signature Bank (NASDAQ:).
Some investors believe aggressive U.S. interest rate hikes by the Federal Reserve caused cracks in the financial system.
"They've tightened at the steepest, most dramatic rate that we've seen since 1980 and so I think this could be the opportunity for them to pause," said Cresset Capital CIO, Jack Ablin.
U.S.-listed shares of Credit Suisse hit a record low, after its largest investor said it could not provide more financing to the bank, starting a rout in European lenders and pressuring U.S. banks as well.
The selloff put an early end to Wall Street's lukewarm rebound in yesterday's session.
"The bounce back yesterday in financial stocks, the banks, made sense, but sort of an overriding factor here is a loss of confidence and it's really fear of the unknown," said Adams Funds CEO and senior portfolio manager, Mark Stoeckle.
Data showed U.S. retail sales fell 0.4% last month after 3.2% growth in January. Economists polled by Reuters had expected a contraction of 0.3%.
A separate report showed U.S. producer prices unexpectedly fell in February, a day after another reading showed moderation in consumer inflation. This fueled investor hopes the Fed might slow its rate hikes.
U.S. Treasury yields fell, with traders now expecting equal chances of a 25-basis-point rate hike and a pause at the Fed's March meeting.
According to preliminary data, the S&P 500 lost 26.23 points, or 0.67%, to end at 3,893.06 points, while the Nasdaq Composite gained 7.19 points, or 0.06%, to 11,435.33. The Dow Jones Industrial Average fell 268.87 points, or 0.84%, to 31,886.53.
First Republic Bank (NYSE:) and PacWest Bancorp fell sharply, and trading was halted several times for volatility, a day after shares of the battered banks staged a strong recovery.
Shares of Western Alliance (NYSE:) Bancorp and bank and brokerage Charles Schwab (NYSE:) Corp bucked the trend to close in the green. Both stocks reversed early declines.
"In the financial markets, you just have to look at the ones that could weather through and don't have as much investment risk on their on their portfolio," said Jeffrey Carbone, managing partner at Cornerstone Wealth.
Big U.S. banks including JPMorgan Chase & Co (NYSE:), Citigroup (NYSE:) and Bank of America Corp (NYSE:) dropped, dragging on the S&P 500 banking index. The KBW regional banking index declined.
Most of the 11 major S&P 500 sectors were in the red, with energy the worst hit.