2/2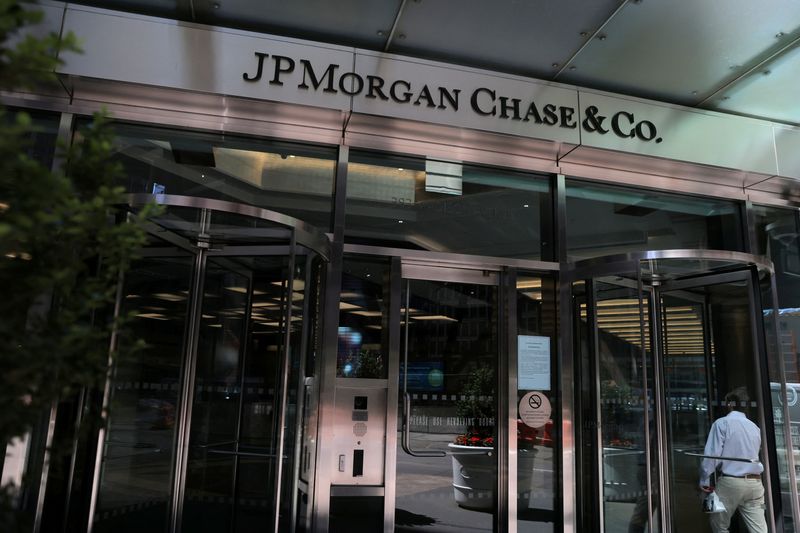 © Reuters. FILE PHOTO: A person enters the JPMorgan Chase & Co. New York Head Quarters in Manhattan, New York City, U.S., June 30, 2022. REUTERS/Andrew Kelly
2/2
By Ross Kerber
(Reuters) -Republican attorneys general from 21 U.S. states raised fresh concerns with asset managers over their consideration for environmental, social and governance (ESG) factors in the votes cast at U.S. corporate annual meetings getting under way this spring.
The top state legal officers issued their challenge via a letter, provided by the office of Montana Attorney General Austin Knudsen on Friday, sent to 53 of the largest U.S. fund firms including BlackRock Inc (NYSE:) and the asset-management arms of State Street Corp (NYSE:) and JPMorgan Chase & Co. (NYSE:)
The letter marks the latest salvo in a growing political battle over what had been a quiet corner of finance.
Companies and investors increasingly consider factors like climate change and workforce diversity, which they say can affect company performance and reputation. The approach has received backing from Democratic leaders, including U.S. President Joe Biden, who recently used his first veto to defend a rule on ESG investing.
Meanwhile, Republicans, many from energy-producing states, have raised a growing chorus of challenges on ESG. The latest letter built on concerns many of the same attorneys general brought to BlackRock last August.
In the new letter, dated March 30, the attorneys general told the asset managers that "many of you have committed to take actions inconsistent with your clients' financial interests," such as by joining groups like the Net Zero Asset Managers initiative, which encourages members to help reduce global emissions.
This can be a problem for fund participants who do not share ESG goals, the Republicans wrote. "As far as we can tell, your non-ESG funds do not disclose to investors that their investments will be used to further ESG goals, including pressuring companies to reduce emissions in economically destructive ways," the letter states.
Asset managers have argued that such memberships align with their fiduciary obligations, and some are giving clients more control over proxy votes.
BlackRock and State Street did not comment. JPMorgan declined to comment.
Another section of the Republicans' letter describes several pending shareholder resolutions as "pushing three companies to stop using Vanguard" as their default retirement plan and noting Vanguard's fossil fuel investments.
"Asset managers voting for the exclusion of one of their competitors has clear antitrust implications," the letter states.
A representative for Knudsen said Pennsylvania-based Vanguard, the top U.S. mutual fund manager, was not among the recipients of the letter, because it had withdrawn from the Net Zero group, the rare fund manager to do so.
Vanguard did not comment.
The resolutions were filed by activist shareholder group As You Sow, which the Republicans suggested had targeted Vanguard over its withdrawal. As You Sow President Danielle Fugere said that was not correct as the group had filed similar resolutions last year, before Vanguard's December action.
Fugere also said the letter mischaracterizes the resolutions, since they only ask for companies to issue reports on how they are protecting plan beneficiaries with long-term investment horizons from climate risk.
The attorney general's letter, Fugere said, "seems geared to chill asset manager votes."