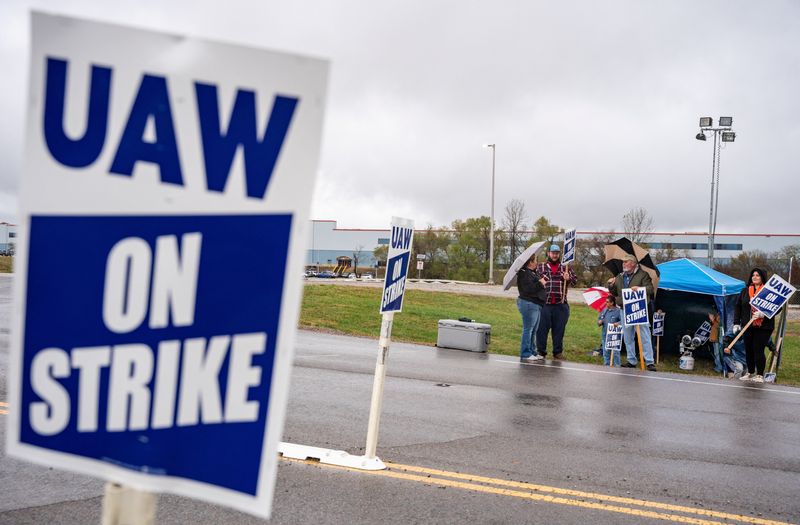 © Reuters. FILE PHOTO: Union members picket General Motors (GM) in the midst of a tentative deal being reached with the United Auto Workers (UAW), which expanded its strike over the weekend to the General Motors (GM) engine plant in Spring Hill, Tennessee, U.S. Oct
By David Shepardson and Joseph White
(Reuters) -The United Auto Workers (UAW) said Monday that 64% of workers at the Detroit Three automakers voted to ratify new record contracts after a six-week targeted strike, as the union turns its attention to organizing foreign-owned and Tesla (NASDAQ:) auto plants.
The votes lock in the UAW's tentative agreements with the automakers through April 2028, which include a 25% increase in base wages and will cumulatively raise the top wage by 33%, compounded with estimated cost-of-living adjustments to over $42 an hour.
It also cut the number of years needed to get to top pay from eight years to three years, will boost the pay of temporary workers by 150% and make them permanent employees and includes significant retirement improvements.
The UAW for decades has unsuccessfully sought to organize auto factories operated by foreign automakers. In recent weeks, Hyundai Motor (OTC:), Toyota Motor (NYSE:) and Honda (NYSE:) Motor have all announced they would hike U.S. factory wages after the UAW contract.
UAW President Shawn Fain was in Washington last week to hold meetings to discuss the union's organizing strategy and is expected to outline more details in the weeks to come.
"Now, we take our strike muscle and our fighting spirit to the rest of the industries we represent, and to millions of non-union workers ready to stand up and fight for a better way of life," Fain said Monday.
President Joe Biden, who has backed the UAW efforts to unionize other carmakers, hailed union ratification Monday.
"The UAW is fighting hard to ensure that all auto jobs are good, middle-class jobs – and I stand with them in that fight," Biden said.
Fain told Reuters last week that the UAW was getting expressions of interest in organizing from many Tesla workers. "Workers at Tesla, Toyota, Honda, and others are not the enemy – they're the UAW members of the future."
Votes in favor of the agreement from workers at some parts and components operations who stand to get substantial raises as they move to higher pay classifications outweighed votes against the contract from some veteran workers.
Automakers, looking to trim costs as they make the shift to electric vehicles, face higher hourly labor costs.
Ford (NYSE:) has estimated the new contract will add $850 to $900 in labor costs per vehicle.
Ford CEO Jim Farley said the company is on track to reach full production schedules for assembly plants impacted during the strike. "The reality is that this labor agreement added significant cost, and we are going to have to work very hard on productivity and efficiency to become more competitive," Farley said.
About 55% of votes cast by General Motors (NYSE:) members were in favor of the new deal, while about 69% of Ford members and 68% of worker at Chrylser parent Stellantis (NYSE:) who voted supported the agreement.
GM CEO Mary Barra said the deal "protects the future of the business and allows us to continue to provide good jobs in communities across the U.S." GM manufacturing chief Gerald Johnson said "we will work aggressive schedules for the good of our customers."
Stellantis Chief Operating Officer Mark Stewart said the company will now "focus our full attention on executing" its 2030 strategic plan that includes launching eight new electric vehicles in 2024.