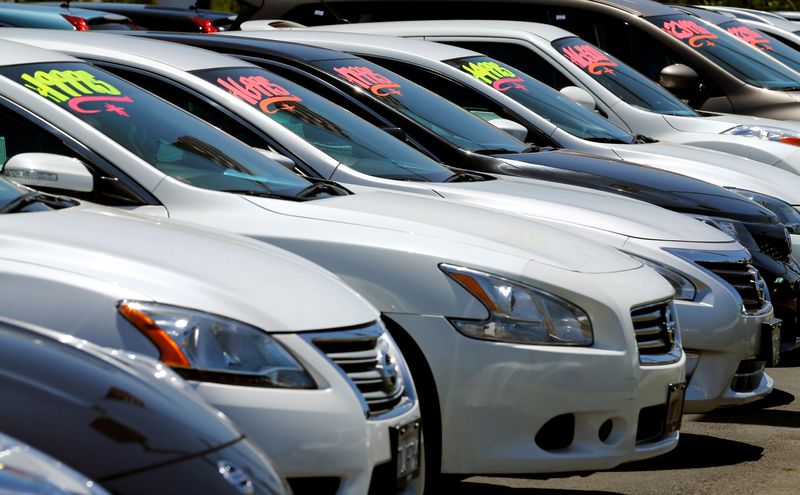 © Reuters. FILE PHOTO: Automobiles are shown for sale at a car dealership in Carlsbad, California, U.S. May 2, 2016. REUTERS/Mike Blake/File Photo
(Reuters) – Sales of new vehicles in the U.S are expected to go up in March, riding on pent-up demand for cars and trucks, a report from industry consultants J.D. Power-LMC Automotive showed on Thursday.
Total new-vehicle sales for the month, including retail and non-retail transactions, are projected to reach 1.33 million units, a 6.2% increase from March 2022, according to the report.
A preference for personal transport has powered the auto industry's sales over the past year but there have been some indications of late that demand may be losing steam. 
General Motors Co (NYSE:) last month said it would idle an Indiana assembly plant that builds Chevrolet Silverado and GMC Sierra pickup trucks for two weeks starting March 27 to maintain "optimal inventory levels" at its dealerships.
"…while there are some warning signs in the banking industry and with the general economy, the outlook for global vehicle sales has been increased by 200,000 from a month ago to 86.1 million units, up 6.2% from 2022," Jeff Schuster, president, global forecasts at LMC Automotive said.
"Supply disruption is expected to continue to ease..," he added.
Retail sales of new vehicles are expected to reach 1.09 million units in March, a 1.9% increase from last year.
Availability of new vehicles at retailers is improving, but overall the industry remains supply constrained helping keep profitability well above historical norms, the report said.
New-vehicle prices continue to rise, with the average price reaching $45,818 in March, a 3.5% increase from a year ago.
For 2023, the consultants said global light-vehicle sales is expected to increase by 6.2% to 86.1 million units.