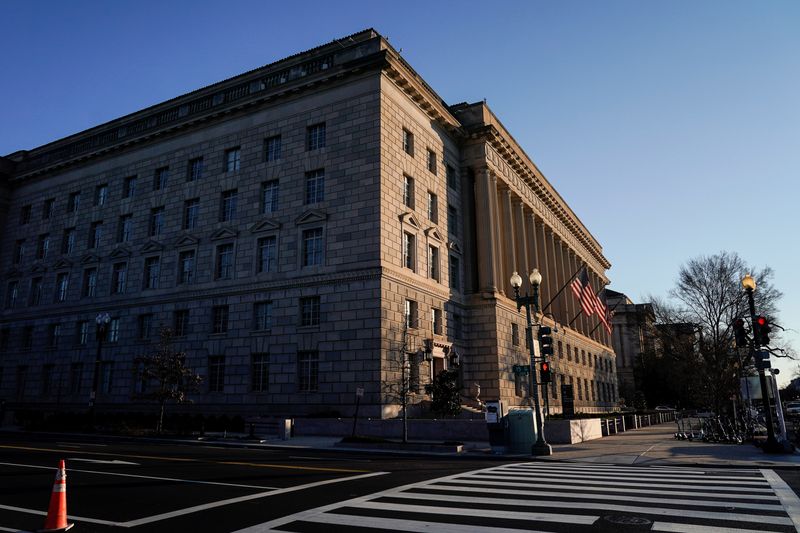 © Reuters. FILE PHOTO: The Department of Commerce building is seen before an expected report of new home sales numbers in Washington, U.S., January 26, 2022. REUTERS/Joshua Roberts
By David Shepardson
WASHINGTON (Reuters) -The U.S. Commerce Department said on Monday it plans to ask companies seeking at least $150 million in funding from a $52 billion semiconductor law to submit a plan for how they will provide affordable childcare for their workers.
The Biden administration unsuccessfully sought $200 billion in funding for universal pre-kindergarten and other childcare programs in a bid to boost economic growth by paying child and home healthcare workers better, and freeing up unpaid caregivers to go to paying jobs.
Commerce cited data that a lack of affordable and accessible childcare "is one of the largest constraints keeping Americans – and especially women" – out of the labor workforce in making the case that companies getting chips funding should show how they will provide affordable childcare.
The childcare component shows the Biden administration's willingness to direct federal funds – in this instance, earmarked under the CHIPS and Science Act – toward companies that agree to advance its policy objectives.
Nobel laureate Joseph Stiglitz said on Twitter lack of childcare is a significant barrier to labor force participation. "Worker scarcity is a significant challenge in our economy, especially in high-tech industries. The provision that companies receiving CHIPS money provide childcare for workers is an important component."
On Tuesday, the Commerce Department will release the first funding opportunity. Congress allocated $39 billion for manufacturing incentives to encourage companies to build and expand facilities and the law also creates a 25% investment tax credit for building chip plants estimated to be worth $24 billion.
The department on Tuesday will outline other factors it will consider in making awards. The law prohibits applicants from using government funds for dividends or stock buy backs.
The New York Times reported Monday companies will be required to share a portion of any "unanticipated profits" with the federal government.
Last week, Commerce Secretary Gina Raimondo said the funding will create hundreds of thousands of good jobs.
"But here's the truth: if we don't invest in America's manufacturing workforce, it doesn't matter how much we spend. We will not succeed," Raimondo said. "We need to be both honest with ourselves and creative with solutions if we're going to address this workforce challenge."
Commerce said last year chips companies awards will be "no larger than is necessary to ensure the project happens here in the United States" and will discourage "race-to-the-bottom subsidy competitions between states and localities."