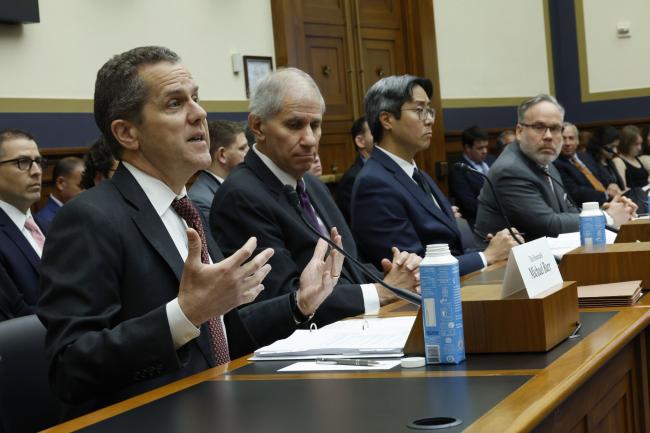 &copy Bloomberg. WASHINGTON, DC – MAY 16: (L-R) Federal Reserve Board Vice Chair for Supervision Michael Barr, Federal Deposit Insurance Corporation Chair Martin Gruenberg, Acting Comptroller of the Currency Michael Hsu and National Credit Union Administration Chair Todd M. Harper testify before the House Financial Services Committee at the Rayburn House Office Building on May 16, 2023 in Washington, DC. The committee held an oversight hearing on prudential regulators. (Photo by Kevin Dietsch/Getty Images)
(Bloomberg) — The top US bank regulators are vowing to act quickly on long-delayed rules to clamp down on executive pay and bonuses. 
Former executives at failed lenders Silicon Valley Bank, Signature Bank (OTC:) and First Republic Bank (OTC:) have faced fierce criticism from Democratic lawmakers and others over their generous compensation.
Martin Gruenberg, chairman of the Federal Deposit Insurance Corp., Michael Barr, vice chair for supervision at the Federal Reserve, and Michael Hsu, acting head of the Office of the Comptroller of the Currency, committed to adopting a strong, incentive-based compensation rule during a Senate Banking Committee hearing on Thursday. 
"Will you commit to acting on this rule quickly?" Senator Bob Menendez, a Democrat from New Jersey, asked the regulators. Each responded with a "yes."
The rules were mandated by the 2010 Dodd-Frank Act to discourage executives from taking the kind of risks that contributed to the 2008 meltdown.
The speed of deposit withdrawals from SVB and Signature took regulators by surprise. Both lenders were taken over in March by the government, which took the extraordinary step of covering all depositors. In May, JPMorgan Chase & Co. (NYSE:) agreed to buy First Republic, the second-biggest bank failure in US history. 
The former executives of the collapsed banks have retained their large bonuses and have pushed back on accusations that they mismanaged risk. Michael Roffler, who was First Republic's chief executive officer, has said the bank failed due to contagion from the other collapses.
"The bank executives manipulated profits in a way to increase their risks and made no changes to the compensation structure to account for that risk,"said Democratic Senator Christopher Van Hollen, who was speaking about SVB and Signature.
Van Hollen urged the watchdogs to have the rules completed by the end of the year.
©2023 Bloomberg L.P.