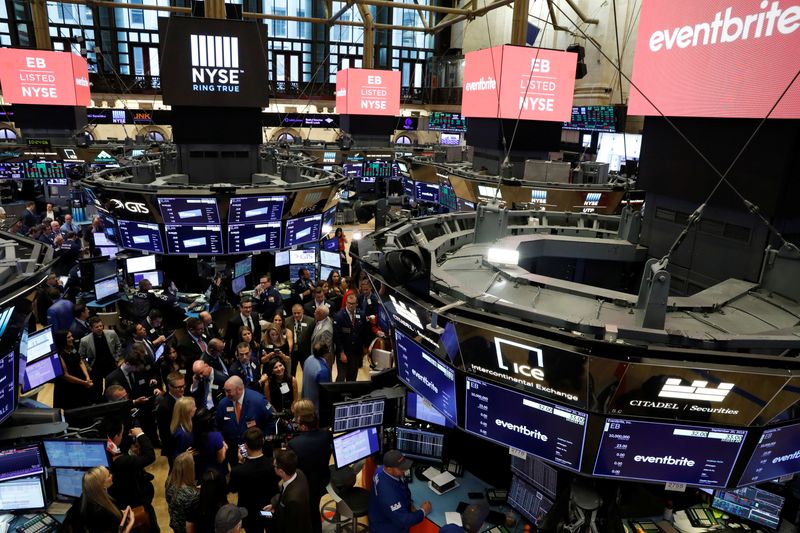 © Reuters. FILE PHOTO: Traders gather at Eventbrite Inc.'s IPO, awaiting for the stock to begin trading at the New York Stock Exchange (NYSE) in New York, U.S., September 20, 2018. REUTERS/Brendan McDermid
(Reuters) – Eventbrite (NYSE:) Inc said on Tuesday it will eliminate about 8% of the company's workforce, as the ticketing service provider looks to cut costs amid worries of an economic downturn.
Shares of the company were up nearly 3% at $9 in extended trading.
The company joins a growing list of firms in corporate America – from tech companies and Wall Street banks to online furniture retailer Wayfair (NYSE:) Inc – that have reduced their workforce in the face of recessionary fears.
Eventbrite said it also plans to relocate about 30% of the remaining roles, including moving certain development roles to Spain and India from Argentina and the U.S. The company added it will relocate nearly all of the customer support and operations roles to locations outside the U.S.
As of December 31, 2022, Eventbrite had 881 full-time employees, of which 508 were in the United States and the rest in other locations. The company expects the entire process to be completed by the end of the year.
The ticketing service provider expects to incur total costs associated with the restructuring plan of about $12 million to $20 million, pre-tax.
Separately, Eventbrite reported a 20% rise in fourth-quarter revenue on Tuesday, benefiting from improvement in paid ticket volumes.
The company expects full-year 2023 revenue to be between $312 million and $330 million, compared with $260.9 million in 2022.