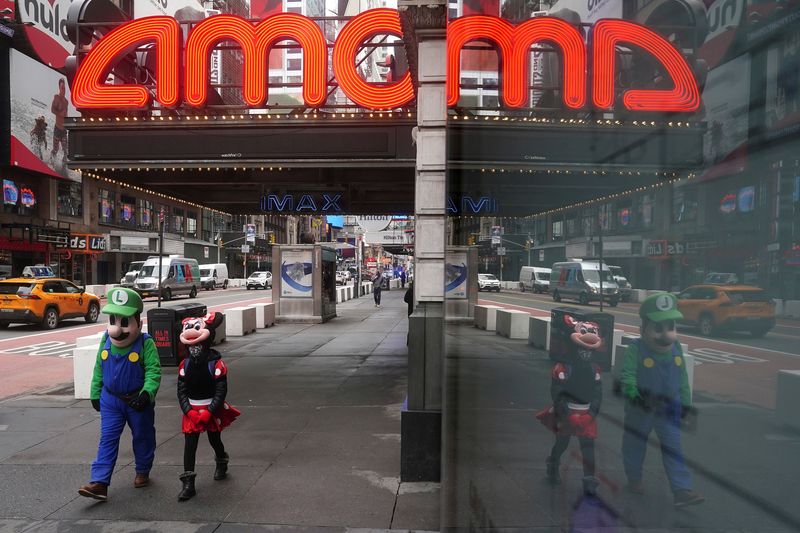 © Reuters. FILE PHOTO: Times Square characters who pose for photos for money walk past an AMC theatre amid the coronavirus disease (COVID-19) pandemic in the Manhattan borough of New York City, New York, U.S., January 27, 2021. REUTERS/Carlo Allegri/File Photo
(Reuters) -Theater chain AMC Entertainment (NYSE:) Holdings Inc posted a more than 15% fall in fourth-quarter revenue on Tuesday and said box office is yet to return to pre-pandemic norms, sending its shares down 9% in after-hours trading.
Movie theaters, which were shuttered during pandemic-related lockdowns, are struggling to draw in crowds as rising costs have made people spend more on groceries, rent and gas, while reducing spending on out-of-home entertainment.
"As we have been saying for a long time, the industry-wide box office will not return to pre-pandemic norms before 2024 or 2025 at the earliest," AMC Chief Executive Adam Aron said in a statement.
Movie releases were also light during the quarter due to a delay in production.
The company's fourth-quarter net loss widened despite box office hits such as James Cameron's "Avatar: The Way of Water" and Disney's Marvel superhero film "Black Panther: Wakanda Forever".
However, Aron remained optimistic that the company's recovery will continue to show progress this year, aided by more movie releases.
"We expect the recovery will continue apace in 2023, as Hollywood is expected to release approximately 75% more major movie titles than it did in 2022," Aron added.
The company's net loss widened to $287.7 million, or 26 cents per share, during the quarter ended Dec. 31, from $134.4 million, or 13 cents per share, a year ago.
Revenue for the quarter was $990.9 million, compared to analysts' expectation of $977.7 million, according to Refinitiv IBES data.