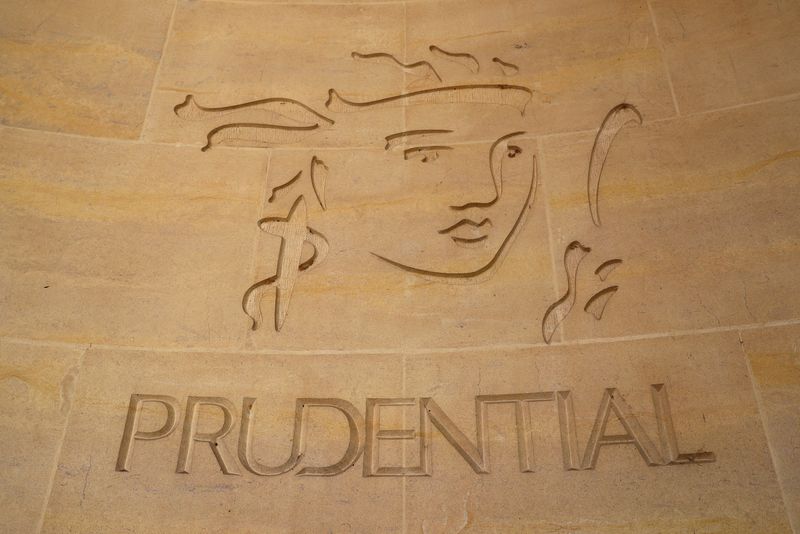 © Reuters. FILE PHOTO: The logo of British life insurer Prudential is seen on their building in London, Britain March 17, 2019. REUTERS/Simon Dawson
By Selena Li
HONG KONG (Reuters) -Asia-focused insurer Prudential's said its exposure to collapsed Silicon Valley Bank (SVB) is minimal, and expects little impact on its "conservative" balance sheet.
The insurer has around $1 million exposure to SVB, against a total debt book of $23 billion, James Turner, company's chief financial officer said at a news briefing on Wednesday.
"Our exposure to SVB is de minimis," Turner said.
The failure of SVB and Signature Bank (NASDAQ:) in the past week sparked fears of contagion in the banking and wider financial sector, triggering a selloff in global stock markets.
"We are very conservative in the positioning of our balance sheet", Turner said, adding around 46% of Prudential's debt exposure is to sovereign bonds and 89% of its corporate debts are investment grade.
The insurer's stock price ended 1.18% lower in Hong Kong on Wednesday, while the broader market was up 1.52%. Its London-listed shares fell 4.7% by 9 a.m. GMT
Analysts say they expect a stronger pickup in sales from Chinese mainland visitors to Hong Kong, the insurer's key revenue centre.
Prudential's growth in new sales is lower than JP Morgan's 2023 full-year forecasts, according to a research note from the bank.
"This is a mixed set of results versus forecast by JP Morgan and consensus, and we expect a neutral to negative share price reaction."
The number of Chinese visitors to Hong Kong is still only 45% of peak levels before the COVID-19 pandemic, Anil Wadhwani, the company's new chief executive, said at the news briefing.
He added the initial flow of visitors had a positive impact on the company's sales.
Prudential's annualised premium equivalent (APE) sales, a closely watched gauge of insurance sales, jumped 15% for the first two months of this year from the same period a year ago, said Wadhwani, who officially assumed the top job in February.
"The removal of the bulk of COVID-19-related restrictions across the region and the progressive opening up of the Chinese mainland economy has meant that 2023 has started well with encouraging progress in year-on-year sales," Wadhwani said.
As China ended its Zero-COVID policy, border restrictions were removed last month allowing mainland visitors to go to Hong Kong and buy insurance again.
The insurer's adjusted operating profit came in at $3.38 billion on a constant exchange rate basis, up by 8% from $3.23 billion in 2021, Prudential said in a statement.
The result beat a forecast of around $3.34 billion from 22 analysts' forecasts provided by the company.
The insurer has now completed the move of its entire senior management team from London to Hong Kong – its new global headquarters – which is closer to its revenue sources.
The insurer has no immediate plan to change its UK domicile, its chief executive said.