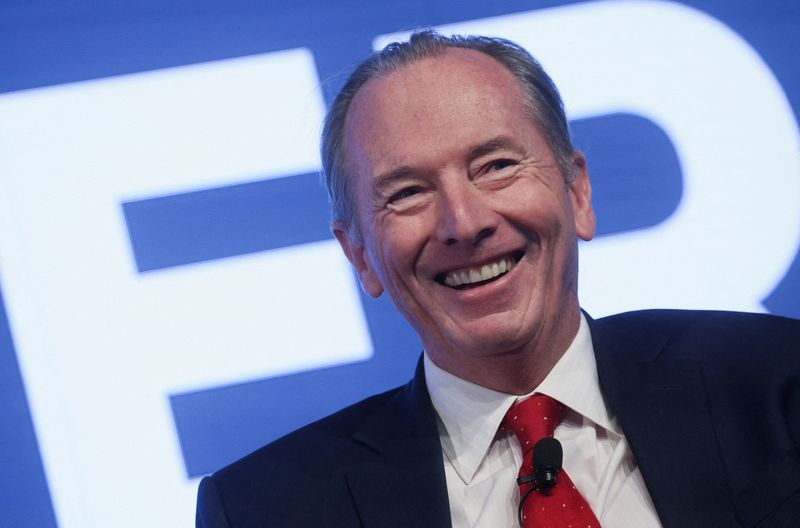 © Reuters. FILE PHOTO: Morgan Stanley CEO James Gorman attends the Reuters NEXT Newsmaker event in New York City, New York, U.S., December 1, 2022. REUTERS/Brendan McDermid//File Photo
NEW YORK (Reuters) – Morgan Stanley (NYSE:) CEO James Gorman told shareholders Friday that the company will likely appoint its next CEO in the next 12 months.
Gorman, 64, said the bank's board has identified three strong candidates to succeed him and that he will become executive chairman once a new CEO is chosen.
Morgan Stanley co-presidents Ted Pick and Andy Saperstein, and head of investment management Dan Simkowitz, are widely seen as contenders for the top job.
"An issue of paramount importance to shareholders, employees and clients is, of course, Succession — and no, I'm not just talking about the TV series," Gorman joked in making the announcement, showing his trademark dry humor.
"And I definitely have no plans to go out like Logan Roy," he said, referring to the lead character in the HBO television show about the family of a media tycoon.
In the show, Roy dies as CEO of the company, without having chosen a successor.
Gorman has transformed the Wall Street powerhouse into a more diversified firm that is less reliant on its traditional strengths — trading and investment banking — since taking the helm in 2010.
He struck major deals including the acquisitions of money manager Eaton (NYSE:) Vance, online broker E*Trade, and stock-plan manager Solium Capital. He was also the key architect behind Morgan Stanley's purchase of Smith Barney, a brokerage and investment adviser that became a cornerstone of the bank's wealth management arm.
Morgan Stanley's first-quarter profit beat expectations as rising revenue from wealth management in the first quarter offset declines in investment banking and trading. Wealth management accounted for 45% of firm's revenue, the results showed.