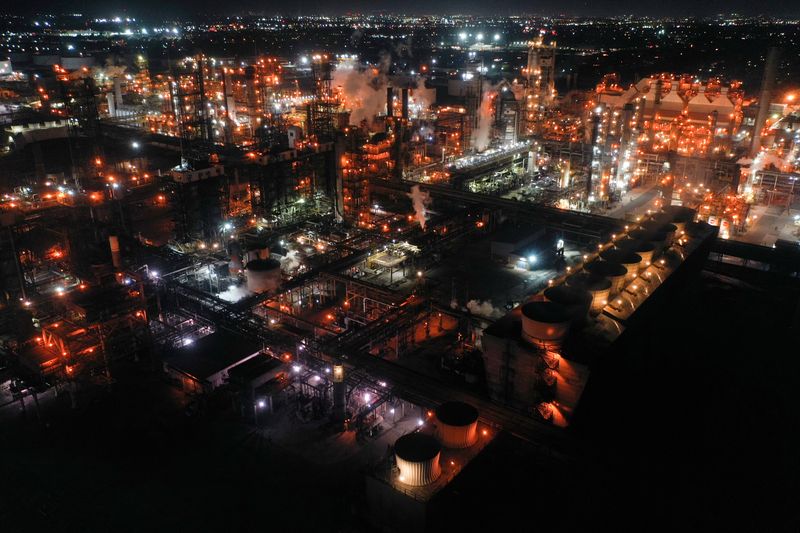 © Reuters. A nighttime view of the Torrance Refinery, an oil refinery operated by PBF Energy, in Torrance, California, U.S., March 10, 2022. REUTERS/Bing Guan
A look at the day ahead in U.S. and global markets by Mike Dolan
A price spike to the highest of the year delivered a final blow to an ailing third-quarter for world markets and left forlorn investors looking again to the Federal Reserve chair for solace.
With U.S. government borrowing rates grinding ever higher on a mix of Fed hawkishness, punchy labor markets, heavy debt sales and an untimely inflation spur from renewed energy price gains, central bank boss Jerome Powell gets back on the podium in Washington later on Thursday.
The latest oil price moves, a looming partial government shutdown from this weekend and unresolved autoworker strikes paint an even more complicated picture for the Fed than it was already facing in getting inflation back to target.
Nervousness about the deepening Chinese property sector bust and another suspension of shares in the ailing real estate giant Evergrande on Thursday add to the messy mix.
U.S. oil futures jumped to their highest in more than a year at more than $93 per barrel after news of a drop in crude stocks in the United States added to worries over tight global supplies from OPEC+ output cuts.
Although base effects from 2022 saw annual oil price gains dial back a bit, a renewed energy pinch going into the final quarter of the year has pushed 10-year U.S. Treasury yields to yet another 16-year high at 4.64% — now almost a full percentage point higher than at mid-year.
The U.S. Treasury completes more than $130 billion of new debt sales this week with another 7-year note auction later on Thursday.
The latest signals from the economy showed momentum still strong as orders for long-lasting U.S. manufactured goods rose in August and business spending on equipment appeared to regain momentum after faltering early in the third quarter.
And along with another weekly update on the tight jobs market, Thursday's diary has long-term revisions of U.S. output over the past couple of years that will shine light into the underlying strength of the expansion.
Rising U.S. debt yields buoyed the supercharged dollar to 10-month highs on Wednesday, although the greenback fell back slightly first thing today.
But even though the euro bounced back from 2023 lows today, there was better news on the inflation front from Europe.
German inflation is likely to ease significantly in September based on data from five key German states on Thursday, signalling what could be the beginning of the end for high inflation that has weighed heavily on Europe's largest economy.
Despite Wall St stocks holding the line on Wednesday, futures were back in the red today – with the MSCI's all-country index which captures world stocks at its lowest since May and on course for its 10th straight daily loss.
With the third quarter ending on Friday, it's the first negative three-month stretch of the year for equities and the is now down almost 4% since mid-year.
In corporate news, Micron Technology (NASDAQ:) was down 4% ahead of the bell after it forecast a wider than expected first-quarter loss even as it prepares to ramp up production of new product lines and works to become a supplier to Nvidia (NASDAQ:).
As China's markets headed for the Golden Week holidays next week, stocks there were in the red too – with Hong Kong's hitting its lowest for the year so far.
Key developments that should provide more direction to U.S. markets later on Thursday:
* US Q2 and historical GDP revisions, weekly jobless claims, Aug pending home sales, Kansas City Fed Sept business survey
* US Federal Reserve Chair Jerome Powell gives opening remarks and participates in moderated discussion in Washington; Fed Board Governor Lisa Cook, Chicago Fed President Austan Goolsbee and Richmond Fed chief Thomas Barkin all speak.
* U.S. Treasury auctions 7-year notes, 4-week bills
* U.S. corporate earnings: Nike (NYSE:), Accenture (NYSE:), Carmax