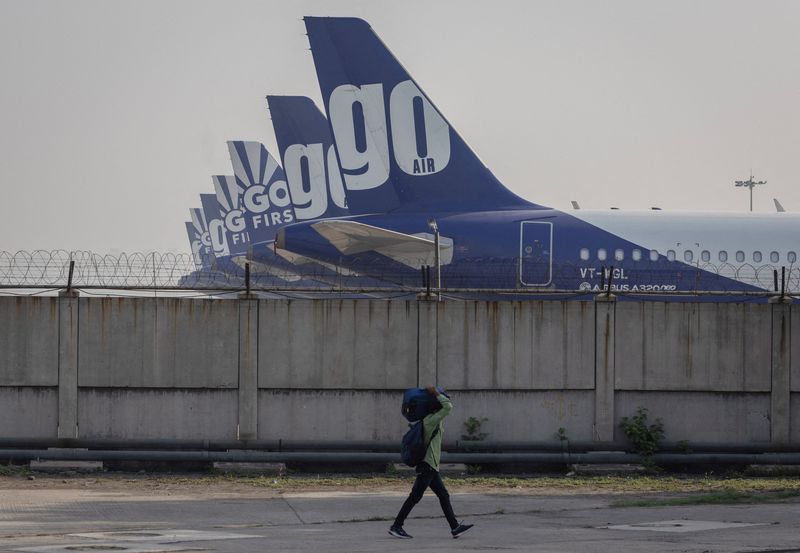 © Reuters. FILE PHOTO: A man carries his bag as he walks past the Go First airline, formerly known as GoAir, passenger aircrafts parked on the tarmac at the airport in New Delhi, India, May 11, 2023. REUTERS/Adnan Abidi/
NEW DELHI (Reuters) – The Indian government wants Go Airlines (India) Ltd flights to resume as soon as possible, the civil aviation minister said on Thursday, a week after the troubled low-cost carrier was granted bankruptcy protection.
Recently rebranded as Go First, India's sixth largest airline filed for bankruptcy protection earlier in May blaming its financial woes on "faulty" Pratt & Whitney engines that grounded about half of its 54 Airbus A320neos.
The U.S. engine maker, part of Raytheon Technologies (NYSE:), has said the claim was without merit.
"It's certainly something that is not a great thing for civil aviation. However, each company has to manage its own issues," Minister Jyotiraditya Scindia told reporters, according to a video clip published by news agency ANI.
"We would want a resumption of flights as soon as possible. They have to submit their plan to (the aviation regulator) which will cover the number of planes and routes," he added.
The airline has cancelled all flights until May 26, while some of its lessors have terminated leases and placed requests with the aviation regulator to repossess more than 40 planes.