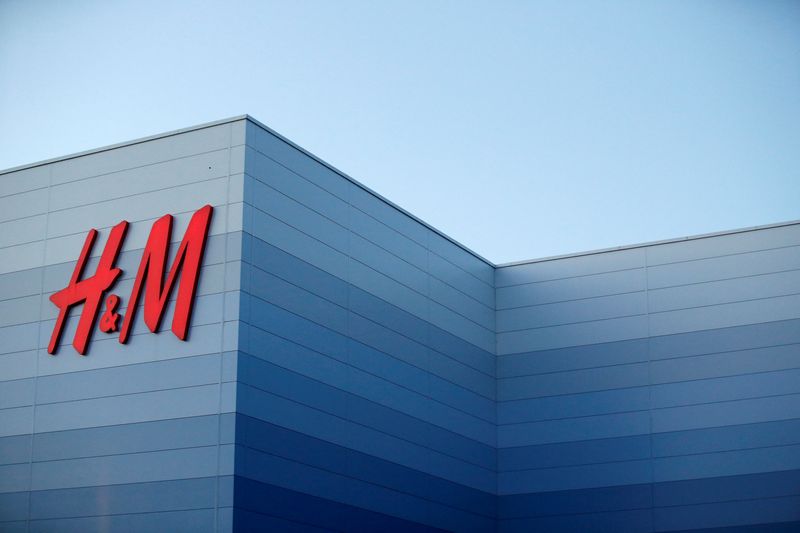 © Reuters. FILE PHOTO: A view shows an H&M warehouse at Magna Park in Milton Keynes, Britain, September 26, 2021. Picture taken September 26, 2021. REUTERS/Andrew Boyers
By Marie Mannes and Anna Ringstrom
STOCKHOLM (Reuters) -H&M, the world's second-biggest fashion retailer, reported on Wednesday a smaller-than-expected increase in sales in the latest sign it is struggling to compete with Zara-owner Inditex (BME:).
Shares in H&M were down 6% in early trade, underperforming the wider Swedish market.
The Swedish group said sales measured in local currencies for the period, its fiscal first quarter, rose 3% from a year earlier.
Jefferies said local-currency sales, the figures most watched by markets, were significantly lighter than consensus estimates and implied that sales in reality fell 3% in February.
The broker called the results "worse than feared" and that it expected a loss in earnings before interest and taxes (EBIT) when the group reports its full first quarter results on March 31.
Credit Suisse also predicted a "material" operating loss.
H&M, which is in the middle of a programme to reduce staff and cut other costs, said net sales were up 12% from a year earlier to 54.9 billion crowns ($5.26 billion).
By contrast, market leader Inditex reported on Wednesday a 13.5% increase in Feb. 1 – March 13 sales and a 27% net profit increase for its fiscal year through January.
Budget player H&M's profits fell last year as it did not fully pass on soaring raw material, freight and energy costs in an attempt to retain its price-sensitive customers.
Royal Bank of Canada (RBC) said it expected continued input cost increases in the first quarter for the retailer and that it would stay under pressure into the second quarter.
It predicted possible improvements at the end of the second and start of third quarter, citing low prices to appeal to H&M's core customer base, improvements in womenswear, and a new creative director.