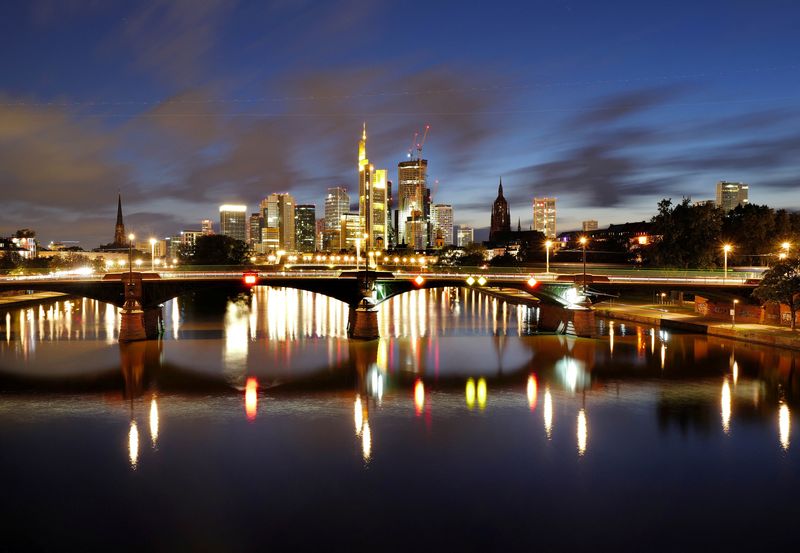 © Reuters. FILE PHOTO: The sun sets behind the skyline during a summer evening in Frankfurt, Germany, August 13, 2023. REUTERS/Kai Pfaffenbach/file photo
BERLIN (Reuters) – Five economic institutes are predicting Germany's economy will shrink by 0.6% this year, as rising interest rates take their toll on investment and high inflation depresses consumption.
In their spring forecast, the institutes had forecast gross domestic product (GDP) would contract by 0.3%. The new projection confirms a Reuters report from earlier this week.
"The most important reason for this revision is that industry and private consumption are recovering more slowly than we expected in spring," said Oliver Holtemoeller, head of the macroeconomics department at the Halle Institute for Economic Research (IWH).
Business sentiment has recently deteriorated again and overall, the indicators suggest that production fell markedly in the third quarter, the economic institutes said.
GDP is expected to shrink by 0.4% in the third quarter alone, after stagnating in the second quarter.
However, price hikes have been followed wage increases, energy prices have fallen, meaning that purchasing power is returning, economists said. Therefore, the downturn is expected to subside by the end of the year.
In the last quarter of the year, a modest 0.2% expansion is forecast.
For 2024, the institutes – four German and one Austrian – forecast GDP growth of 1.3%, down from 1.5% previously, and for 2025, an expansion of 1.5%.
In the following years, a decreasing potential growth rate due to the shrinking labour force will become more and more apparent, they said.
Inflation – 6.9% last year – is expected to come in at 6.1% this year and fall to 2.6% next year and 1.9% in 2025.
The institutes see core inflation at 6.1% in the current year and 3.1% in 2024, well above the 2% target of the European Central Bank.
The economic institutes said the ECB's series of interest rate rises had peaked, and that they expected rates to remain unchanged until the summer of 2024, as core inflation declined only slowly.
They also accused the coalition government of being too short-sighted in its reactions to problems such as the recent energy crisis.
"Political uncertainty is too high, that is the title of our report," said Holtemoeller. "In many areas, there is a need for coherent, consistent and medium-to long-term policies."
Stefan Kooths, director of business cycles and growth at the IfW Institute, added: "Consistency should be the basic principle of economic policy."
The economics ministry usually updates its own predictions incorporating the results of the joint forecasts from the Ifo Institute, the IWH, the Kiel Institute for the World Economy (IfW), the RWI–Leibniz Institute for Economic Research and the Austrian Institute of Economic Research.