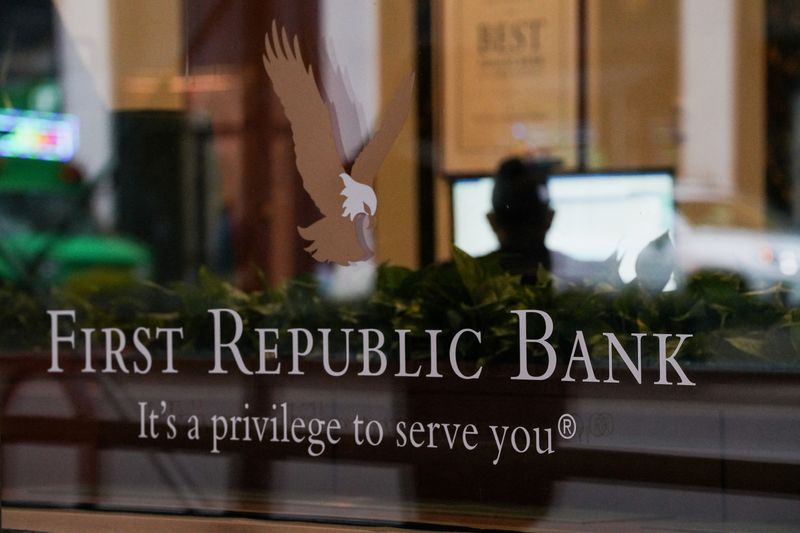 © Reuters. A view of the First Republic Bank logo at the Park Avenue location, in New York City, U.S., March 10, 2023. REUTERS/David 'Dee' Delgado
By Medha Singh
(Reuters) -First Republic Bank's shares plunged on Monday as news of fresh financing failed to assuage investor fears of contagion in the banking sector after SVB Financial Group's downfall last week.
The U.S. regional lender's stock was last down 67% at $27.08 before its trading was halted for volatility.
First Republic on Sunday secured additional financing through JPMorgan Chase & Co (NYSE:) and the U.S. Federal Reserve, giving it access to a total of $70 billion in funds through various sources.
The bank's liquidity strengthened overnight, "but the real issue for the industry is that there is a crisis of confidence in the stickiness of deposits and when that becomes dislocated, things can move very quickly," said Christopher McGratty, head of U.S. Bank Research at investment bank KBW.
Despite the cash infusion, Raymond James double downgraded the bank's stock to "market perform", highlighting the risk of deposit outflows that First Republic faces from panicked large depositors after the bank run at SVB.
While the bank is better positioned for potential deposit outflows than it may have been before the additional financing, if there are net deposit outflows, it will shrink First Republic's earnings power, Raymond James analyst David Long wrote in a note.
U.S. authorities launched emergency measures on Sunday to shore up confidence in the banking system after the failure of Silicon Valley Bank threatened to trigger a broader financial crisis.
State regulators also shuttered New York-based Signature Bank (NASDAQ:), with regulators guaranteeing deposits at both Signature and SVB.
"The market seems to think there is going to be more stress. The question is at what point do they become self fulfilling," McGratty said.
The yield on the 2-year Treasury note plunged by the most since the financial crisis of 2008, as investors pared back bets on interest rate hikes in the wake of a potential crisis in the banking sector.
Traders and analysts indicated the panic could push people to move funds from smaller lenders to the perceived safety of big banks.
Among other regional lenders, Western Alliance (NYSE:) was down 82.% and PacWest Bancorp slid 52% before their trading was halted for volatility.
The KBW regional banking index plunged 11.40%, underperforming the banking index's 8% fall.
Among Wall Street lenders, Bank of America Corp (NYSE:) dropped 6.51%, Citigroup Inc (NYSE:) fell 5.42% and Wells Fargo (NYSE:) slid 6.93%, while lenders in Asia and Europe plunged too.