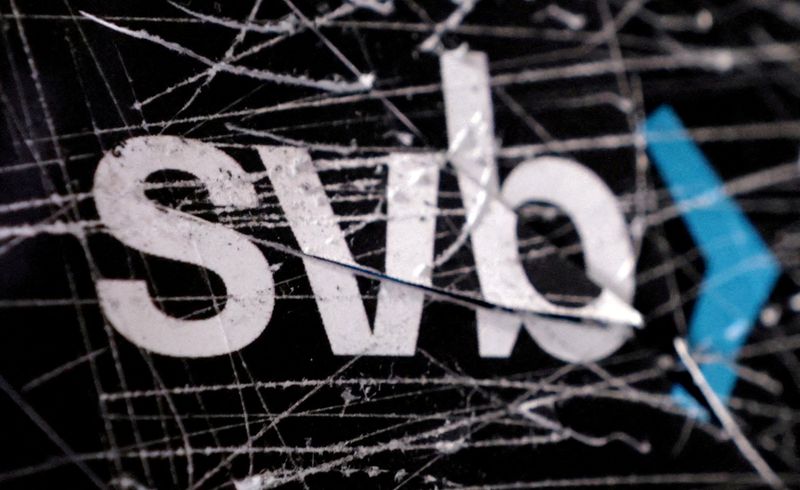 © Reuters. FILE PHOTO: Destroyed SVB (Silicon Valley Bank) logo is seen in this illustration taken March 13, 2023. REUTERS/Dado Ruvic/Illustration/File Photo
By Mike Spector and Greg Roumeliotis
(Reuters) – SVB Financial Group, the company whose former subsidiary Silicon Valley Bank was taken over by U.S. banking regulators last week, is exploring seeking bankruptcy protection as one option for selling assets that include its investment bank and venture capital business, people familiar with the matter said.
SVB said on Monday it was considering strategic alternativesfor its assets but did not disclose bankruptcy as one of the potential options. SVB has not made any final decisions on the path it will take and is still attempting to find buyers for assets without filing for bankruptcy, the people said.A bankruptcy filing is only one option SVB is considering. The financial firm is also exploring other restructuring and recapitalization alternatives built around its investment bank and venture capital business, one of the people said. In addition to seeking outright buyers for assets, companies in such situations sometimes attempt to find investors to put new money into an enterprise.
SVB did not immediately respond to a request for comment.
U.S. regulators launched emergency measures over the weekend in the wake of Silicon Valley Bank's failure that included guaranteeing uninsured deposits at the bank.
Bidders are often hesitant when distressed enterprises are attempting to sell assets. One reason is that a deal done outside of bankruptcy can be unwound if a company later seeks Chapter 11 protection within a certain timeframe, in what is known as a clawback.
In addition, suitors can acquire assets free and clear of certain liabilities in bankruptcy auctions, so potential buyers of distressed assets sometimes prefer waiting for a court restructuring to commence before bidding.
SVB's investment bank and venture capital business are separate divisions of the company from Silicon Valley Bank, which California regulators closed last week after a run by depositors. The shuttered bank is undergoing resolution under the jurisdiction of the Federal Deposit Insurance Corp (FDIC) and the Federal Reserve. Reuters reported on Wednesday that the FDIC hired Piper Sandler Companies as adviser to sell Silicon Valley Bank.
A court-supervised bankruptcy auction usually begins with a so-called stalking horse bidder that has already agreed to a purchase, setting an initial price other suitors can then attempt to top.