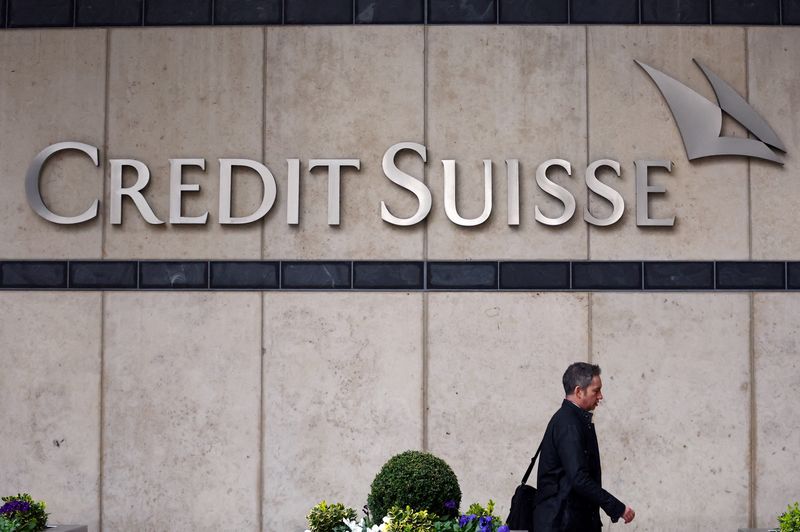 © Reuters. FILE PHOTO: A person walks past the Credit Suisse office in Canary Wharf in London, Britain, March 20, 2023. REUTERS/Hannah McKay/File Photo
By Divya Rajagopal
TORONTO (Reuters) -The Credit Roundtable, a lobby group of some of the biggest fixed income asset managers from the United States and Canada, has decided not to take legal action against Credit Suisse AG, a person familiar with the matter told Reuters on Thursday.
Earlier this week, the Swiss regulator ordered 16 billion Swiss francs ($17.5 billion) of Additional Tier-1 (AT1) debt to be wiped out under its rescue takeover by UBS.
The issue came up for discussion in a meeting earlier this week when some members wanted to sue the banks for the write-off, but the association decided not to take any action, the person added. The source was not authorized to speak about the matter publicly.
The source said it was always "black and white" that these bonds can be written down to zero in adverse events. "So if you bought it and didn't know about it, shame on you and if you bought it and knew about it, well …, " the source added.
The Credit Roundtable was unavailable for comment. Launched in 2007 for bondholders' protection, Credit Roundtable consists of 43 members including PIMCO, Vanguard, MetLife (NYSE:), Canadian pension fund Omers, and Sun Life Financial (NYSE:) Inc.
The source said individual members are free to pursue legal action independently.
The bond holders of Credit Suisse in Europe and UK have been seeking legal advice over the Swiss banking regulator's decision to write off AT1 bonds under the rescue take over by UBS. However on Thursday, the Swiss regulator reaffirmed its position on creditor hierarchy.