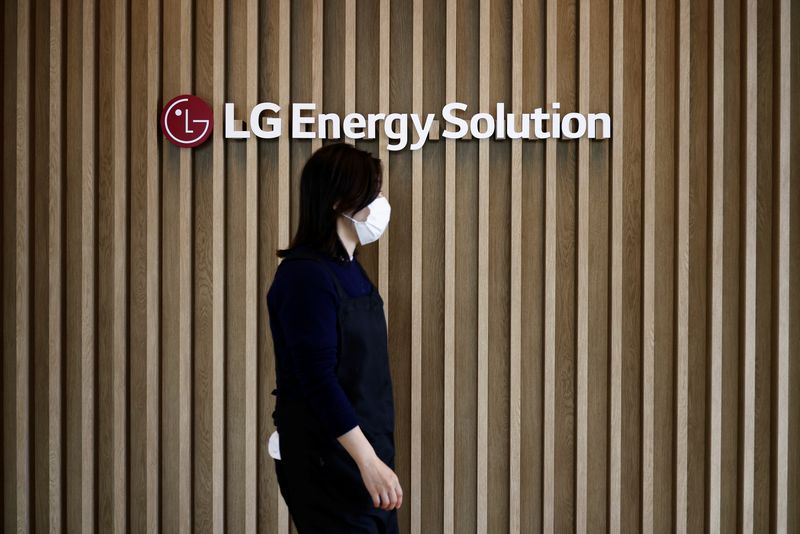 © Reuters. FILE PHOTO: An employee walks past the logo of LG Energy Solution at its office building in Seoul, South Korea, November 23, 2021. Picture taken November 23, 2021. REUTERS/Kim Hong-Ji
By Heekyong Yang and Hyunsu Yim
SEOUL (Reuters) – Battery maker LG Energy Solution (LGES) said on Friday demand for electric vehicle (EV) batteries in North America would likely stay strong this year, boosting its revenue.
The South Korean company, which supplies Tesla (NASDAQ:), General Motors Co (NYSE:) and others, said it is targeting revenue growth of 25-30% this year, aiming to achieve up to 33.3 trillion won ($27 billion) in revenue.
LGES' fourth-quarter profit tripled as it ramped up production to address a huge order backlog from automakers rushing to take a bigger bite out of the growing EV market.
It plans to raise capital expenditure by 50% or more this year compared to 2022.
The company offered a positive outlook in the North American market, where it sees a growing number of customers requesting made-in-USA batteries to be qualified for federal EV subsidies.
LGES, which has joint battery plants with GM, Stellantis NV and Honda Motor Co Ltd in North America, said its battery order backlog rose to 385 trillion won ($313 billion) by the end of December, or more than 11 times its projected 2023 revenue.
The company had secured additional orders worth about 20 trillion won in the fourth quarter, Chief Financial Officer Lee Chang-sil added.
"LGES' presentation today, in fact, suggests that this year would not be typically bad for the company thanks to strong demand in North America, even if we factor in an expected slow EV demand in Europe, where we would likely see gloomier macro situations than other major markets," said Cho Hyunryul, a senior analyst at Samsung (KS:) Securities.  
"It has become clearer that LGES' focus would be North America," Cho added.
EV PRICE CUTS
When asked whether a series of price cuts by major client Tesla would affect battery prices, LGES said it expected there would be a limited impact on overall battery prices.
Tesla said on Wednesday its aggressive price cuts have ignited a wave of demand for its vehicles.
LGES said it expects nearly half of its global battery production capacity would be designated for the North American region in the future, adding it expects to secure an annual battery capacity of about 540 gigawatt hours (GWh) by the end of 2025.
LGES currently supplies batteries to Tesla from China, and said it is in "active discussions" with the Elon Musk-controlled company and other electric vehicle startups to supply batteries from the supplier's proposed Arizona factory.
LGES said it was reviewing its investment commitments in the proposed Arizona plant, without elaborating.
LGES reported operating profit of 237 billion won ($193 million) for the October-December period, versus 76 billion won a year earlier.
That compared with an average analyst forecast of 256 billion won compiled by Refinitiv SmartEstimate.
It missed analysts' estimates because of one-off costs such as energy storage system-related provisions and year-end bonuses.
Revenue for the quarter rose 92% to 8.5 trillion won, LG Energy said in a regulatory filing.
Shares of LGES, carved out of LG Chem Ltd in a market debut last year, closed down 2.1%, versus the benchmark 's 0.6% rise.
($1 = 1,232.3200 won)