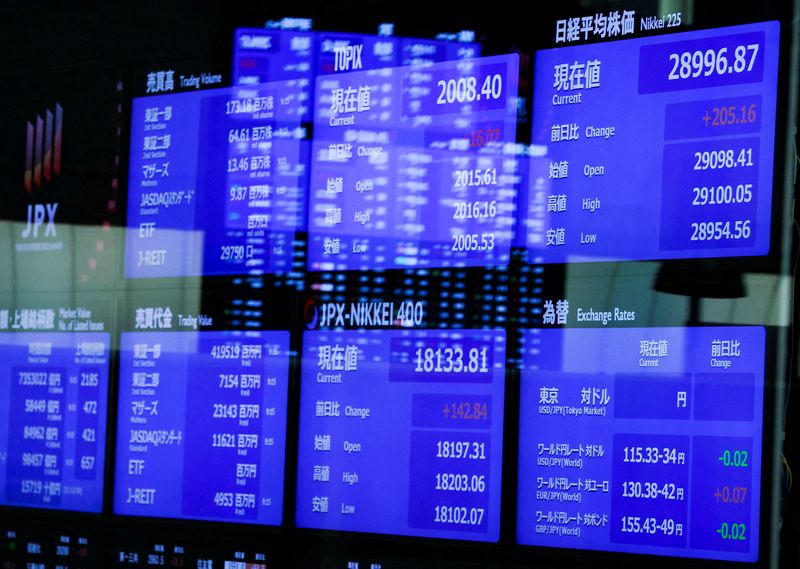 © Reuters. FILE PHOTO: Monitors displaying the stock index prices and Japanese yen exchange rate against the U.S. dollar are seen at the Tokyo Stock Exchange in Tokyo, Japan January 4, 2022. REUTERS/Issei Kato/File Photo
By Dhara Ranasinghe
LONDON (Reuters) -Renewed unease gripped world markets on Wednesday as news that Credit Suisse's largest investor said it could not provide the Swiss bank with more financial assistance sent its shares and broader European shares sliding once more.
Signs of calm and stability in banking stocks, that have tanked in the past week, following the collapse of Silicon Valley Bank (SVB), soon paved way for renewed selling as Credit Suisse shares fell to fresh record lows.
European shares were last down almost 2%, European bank stock tumbled 2.5% and U.S. stock futures fell 1%.
Investors rushed back into safe-havens, with two-year German bond yields down 21 basis points at 2.71%.
"The Credit Suisse share price is falling and government bonds are rallying on the back of that. Still very much driven by the perceived health of the banking sector, but this time in Europe," said Antoine Bouvet, senior rates strategist at ING.
The European Central Bank is still leaning towards a half-percentage-point rate hike on Thursday, despite turmoil in the banking sector, given high inflation, a source close to its Governing Council told Reuters.
Asian equities rose, tracking Tuesday's relief rally on Wall Street after U.S. inflation data delivered no nasty surprises, reinforcing hopes the Federal Reserve will go for a smaller rate hike when it meets next week.
MSCI's broadest index of Asia-Pacific shares outside Japan rose 0.9%, having slid 1.7% on Tuesday. index was flat while an index of Japanese banks, which has slid 8% this week, jumped over 3%.
But U.S. equity futures fell sharply as European banking stocks tumbled in an ominous sign for the Wall Street open.
Bruised U.S. bank stocks regained some ground on Tuesday aided by news that private equity and buyout giants were looking to scoop up some of SVB's assets. That left investors hopeful that efforts to shore up confidence would avert a wider financial crisis.
BACK TO CENTRAL BANKS
Data on Tuesday showed U.S. consumer prices rose 0.4%, with a year-on-year gain of 6% – in line with analyst expectations. There had been worries that stronger-than-expected data might lead the Fed to go for jumbo-sized hikes to battle inflation.
As recently as last week, markets were braced for the return of large Fed interest rate rises but the swift collapse of SVB has changed those expectations, with markets pricing in an 80% chance of a 25 basis point hike next week.
Also helping boost sentiment was data showing China's economic activity picked up in the first two months of the year, driven by consumption and infrastructure investment, and signs the beleaguered property sector is starting to recover.
In Europe, where markets had also rapidly dialled back ECB rate-hike bets at the start of the week, traders were betting again on a big increase in euro zone borrowing costs on Thursday.
According to a Reuters report, a source close to the ECB Governing Council said the central bank was unlikely to ditch plans for a big rate move this week because that would damage its credibility.
"The ECB is behind (the U.S. Federal Reserve) in terms of a tightening cycle and has a lot to do," said Jorge Garayo, senior rates and inflation strategist at Societe Generale (OTC:).
"Core inflation," he added, "is still at very, very elevated levels. So we will be very surprised to not see 50 basis points delivered by the ECB."
In currency markets, the , which measures the U.S. currency against six rivals, was up slightly at 104.01, with the euro down 0.5% at $1.0680.
Oil prices trimmed strong gains and were last up just 0.2%.