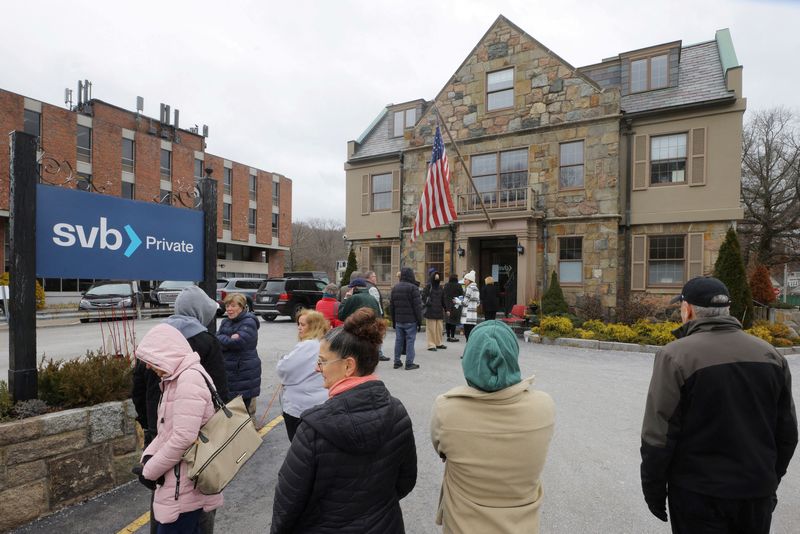 © Reuters. Customers wait in line outside a branch of the Silicon Valley Bank in Wellesley, Massachusetts, U.S., March 13, 2023. REUTERS/Brian Snyder
(Reuters) – Large U.S. banks injected $30 billion into First Republic Bank (NYSE:) on Thursday, swooping in to rescue the lender caught up in a widening crisis triggered by the collapse of two other mid-size U.S. banks over the past week.
The spotlight whipsawed back to the United States after last week's collapse of Silicon Valley Bank was followed by turmoil ensnaring Swiss lender Credit Suisse.
DEVELOPMENTS
* First Republic Bank received $30 billion in deposits from several big banks, the banks said in a statement on Thursday, as part of a rescue package for the lender. Involved in the rescue are JPMorgan Chase & Co (NYSE:), Citigroup Inc (NYSE:), Bank of America Corp (NYSE:), Wells Fargo (NYSE:) & Co, Goldman Sachs Group Inc (NYSE:), Morgan Stanley (NYSE:) and others.
* Federal regulators and the Treasury Department on Thursday welcomed the move to rescue First Republic and said it showed the resilience of the U.S. banking system.
* Banks sought record amounts of emergency liquidity from the Federal Reserve over recent days in the wake of the failure of Silicon Valley Bank and Signature Bank (NASDAQ:), which in turn helped undo months of central bank efforts to shrink the size of its balance sheet, Fed data showed on Thursday.
* U.S. Treasury Secretary Janet Yellen said the U.S. banking system remains sound and Americans can feel confident that their deposits are safe.
* Credit Suisse said early on Thursday it was taking "decisive action" to strengthen its liquidity by exercising its option to borrow from the Swiss National Bank up to 50 billion Swiss francs ($54 billion).
* The European Central Bank raised rates by 50 basis points as promised, acknowledging market strains and pledging liquidity support if needed, but also underscoring eurozone banking sector's resilience.
* Credit Suisse CEO Ulrich Koerner told staff to focus on facts as he pledged to rapidly move forward with a plan to streamline operations.
* German corporate treasurers were urged by their industry association not to "underestimate the current situation."
* Wall Street bank JPMorgan said that Credit Suisse's takeover by another lender, probably its Swiss rival UBS, was the most likely scenario for the embattled bank.
* The head of Japan's banking lobby said on Thursday that there were so far no signs of the Japanese financial system being affected by a crisis of confidence in Credit Suisse.
* The ECB has contacted banks on its watch to quiz them on their exposure to Credit Suisse, two supervisory sources told Reuters. One said, however, that they did not see the bank's problems as systemic.
* The U.S. Treasury is monitoring the situation around Credit Suisse and is in touch with global counterparts about it, a Treasury spokesperson said on Wednesday.
* UBS Group AG (SIX:) and Credit Suisse Group AG are opposed to a forced merger, Bloomberg News reported on Thursday, citing people with knowledge of the matter.
MARKETS
* A strong rebound by financials helped Wall Street's main indexes close firmly positive on Thursday, after media reports said some of the country's largest lenders were in talks to aid First Republic Bank. The rose 371.98 points, or 1.17%, to 32,246.55, the gained 68.35 points, or 1.76%, to 3,960.28 and the added 283.23 points, or 2.48%, to 11,717.28.
* The dollar fell and the euro rose on Thursday after the European Central Bank raised interest rates as planned despite market chaos in recent days, in a sign the Federal Reserve also will likely raise rates next week as both stay on track to tame inflation.
* European shares and government bond yields rose as a lifeline from the Swiss National Bank to Credit Suisse helped ease fears of a global banking crisis.
* The closed the day 1.3% higher after dropping 0.6% and touching a fresh 10-week low following the rate hike decision. Shares in the Credit Suisse jumped 19.2% on Thursday after tumbling 24% to a fresh record low in the previous session.