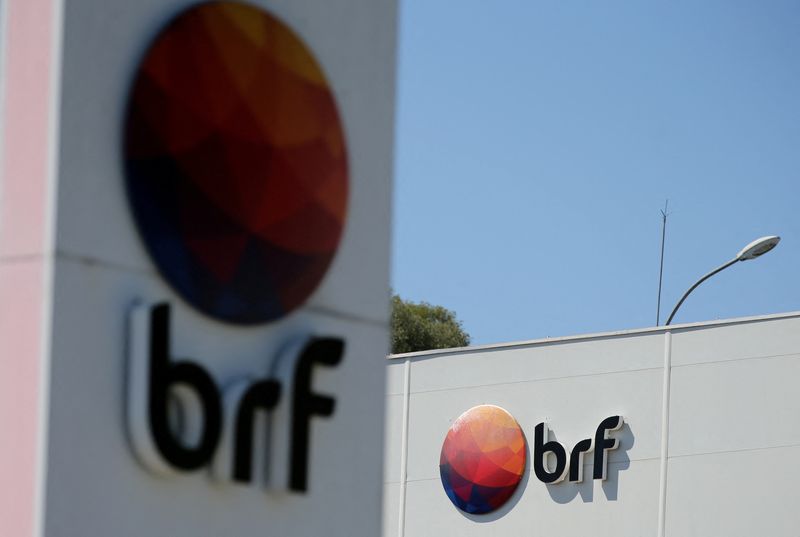 © Reuters. FILE PHOTO: Logos of Brazilian meatpacker BRF SA are seen in the headquarters in Curitiba, Brazil October 1, 2019. REUTERS/Rodolfo Buhrer/File Photo
By Ana Mano
SAO PAULO (Reuters) -Brazil's BRF reported a 601 million real ($114.7 mln) net loss in the fourth quarter on Tuesday, significantly above a loss of 130.62 million reais forecast by analysts, as management scrambles to improve the company's operating performance.
The result marked the fourth consecutive quarterly loss for the company, which is Brazil's biggest chicken exporter.
The 601 million net loss does not factor in the accounting effects of hyperinflation in Turkey, which management said would be positive, nor the one-off impact of a leniency agreement BRF signed last year to settle graft accusations, which would be negative.
The poultry and pork processor said its earnings before interest, tax, depreciation and amortization (EBITDA) was 1.03 billion reais, marking a 38.8% yearly fall that also missed analyst expectations.
All in, BRF would have recorded a loss of 956 million reais in the fourth quarter, the company said.
On the operating front, BRF said overall sales volume grew 1.9% in the fourth quarter, traditionally a strong one due to the holiday season. But it continued to burn cash.
BRF, which derives most of its sales in Brazil, said it benefited from higher sales volume and its ability to raise prices domestically.
Still, EBITDA margins in Brazil contracted to 8.8% in the fourth quarter from 12% in year-ago quarter, it said.
The so-called Halal segment, usually one of the company's most lucrative, faced a 4.7% dollar price drop, which was partly offset by an 8.8% rise in sales volume compared with the third quarter.
BRF said its Halal markets, which require food be prepared according to Muslim dietary rules, suffered from ample supplies of grillers and chicken breasts in certain countries, and the impact of the hyperinflation in Turkey.
After results were published, BRF management told journalists the company plans to sell up to 4 billion reais in non-core assets this year in a bid to cut debt.
($1 = 5.2402 reais)